Hola everyone!
BurdaStyle Kasia Skirt Review
I love BurdaStyle patterns! I buy them every time they have those half price sales and so I have amassed a sizeable stash.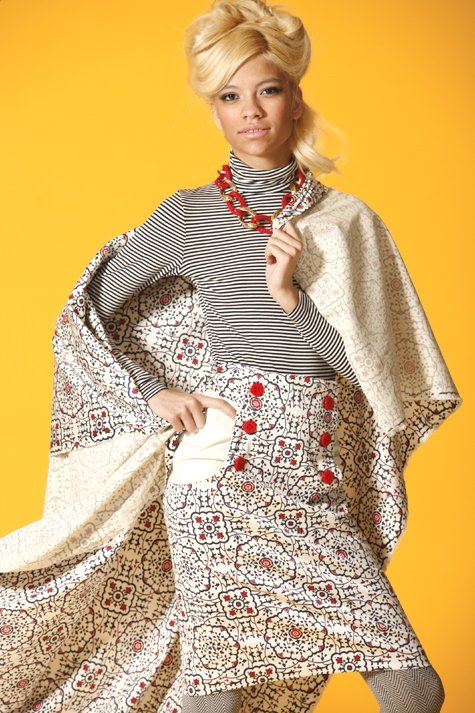 Enter Dawn who blogs over at Two On Two Off. She is hosting the Burda Challenge on top of being a super prolific maker all sorts of lovely garments for herself and her kids. She also won the Pattern Review sewing bee contest last year which is how I came upon her blog.
There challenge rules are:
"Each month we will attempt to make at least one garment from that month's magazine (January garment from the January 2015 Burda magazine). You can also opt to stick with the month but use whatever year you want. (January garment in January, but from whatever year you choose)".
It looks like it will be fun and motivating so I am taking up the challenge but am  making it my own own ;-). . So I am bending the rules a little to suit my own style and skill level. I don't actually subscribe to Burda although I did buy the December UK edition to see what it was like. I am going to challenge myself to make the Burda patterns I already have. In that spirit I present my  February Burda garment which only costs 99p! The Kasia skirt ! Ta dah!
Lately I've been expanding my wardrobe with more skirts. I have already made two Hollyburns.
So technically speaking I started making this skirt last year around November and mostly finished it except for the buttons and I just sort of fizzled and moved on to a newer shinier project ;-(. Kasia has been sitting in a blue carrier bag for all this time. This was before my reformation so I am doing right by her this time. I realised in all earnest that I couldnt emabrk on this challenge with a Burda make waiting to be finished.
I dug her out and dusted her off. Sewed the buttonholes and buttons and BOOM!
To be honest I did work on this long ago that I cant remember specific details. I know that I made a muslin but I didn't finish fitting the muslin because I just thought I could wing it. Looking at the side seams it looks like I took them in by quite a lot so I didn't fit the muslin properly. The hem was finished using fusible bondaweb. I handstitched the waistband in place.
Still – Yes I am happy with this garment.  However..my only issue with it is my choice of fabric means that its very challenging to style it. I just don't have anything that I can wear over it and I think that's why it probably wont get worn as much as my other me made skirts.
If I had to make this again next  time I would move the zipper to the back of the skirt and  the buttons would merely decorations with the front flap is sewed to the skirt. Or I would omit the flap and pockets and kept the gathered side yoke for decoration purposes only.
Happy sewing everyone and I hope you are having better weather than me right now!
Links
Burdastyle Kasia Skirt Sewing Pattern
"This post may be sponsored or contain affiliate links, which means I may receive a small commission, at no cost to you, if you make a purchase through a link.