Hello everyone,
As you may or may not know I am taking part in the Burda challenge hosted by Dawn who blogs over at Two On Two Off. For this month I prepared a pattern for a top. But then I realised that I still wanted to work on the fit of the Kasia  skirt.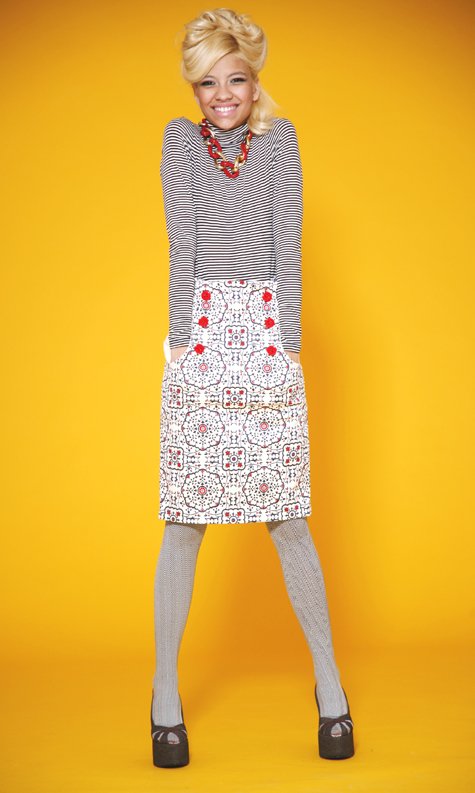 I also wanted to see what it would look like without the flap. The flap is okay but since I have worn it a few times I felt it would be a lot better without the flap.
There was a fair bit of messing about with the pattern to make sure I made all the necessary adjustments. Changes I made were as follows:
1. Moved the zip to the back.
2. Got rid of the flap altogether (it meant loosing the pockets but they are too shallow to be sorely missed).
3. Reduced the length.
In order to move the zip to the back I had to change the pattern piece that had to be cut once on the fold to 2 pieces with a seam allowance. Did the reverse for the front – removed seam allowance and cut on fold. Being worried I would make errors I spent 2 nights going over the new construction (while watching Banished on BBC2 which is why it took 2 nights ;-). Once I had cut out, it was a quick make. It was waiting about 2 weeks for me to get round to sewing the inner waistband by hand.
Pros
1. I love the fit on my waist with the princess seams.
2. The length is much better for me.
3. The side yokes are much better inserted than my last effort and am pleased with that.
Cons
1. My seam matching is horrid!
2. Didn't quite get the zipper in right. There is a bubble.
3. My handstitching is visible on the exterior of the garment just below the lower band of the waist.
Verdict I am happy with this little skirt and it will be getting a lot of wear. I will definitely be making another one with improved seam alignment! Hopefully the weather will warm up enough for me to get my flats out instead of having to wear wellies or boots!
Happy sewing everyone and thanks for reading!
Are you looking forward to April? I am ….mostly because my birthday is in 2 days! Yip Yip!
Links
Burdastyle Kasia Skirt Sewing Pattern
This post may contain affiliate links, which means I may receive a small commission, at no cost to you, if you make a purchase through a link.