I neglected to mention that I made 2 dresses for the Day and Night Dress challenge hosted by ElizabethMadeThis.com.
BurdaStyle 02/2018 #101 Dress
For my day dress, I decided to multi task by also making a dress for my #burdachallenge2018 plan for the month. The dress I chose was style number 101 from the February issue of BurdaStyle magazine.
The style was a bit outside my comfort zone given its vintage vibes. Normally the vintage I like tends to be the maxi variety. Here is the line drawing :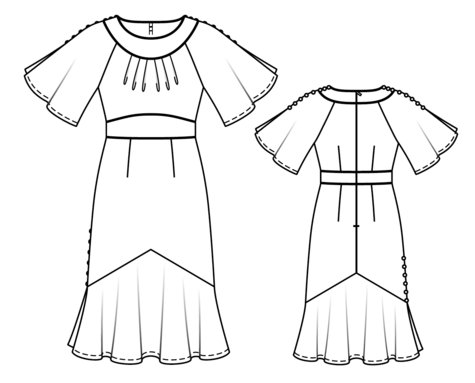 It was actually the line drawing that drew me to this pattern. The details were quite unique to me especially the lower skirt godet.
I used a fabric that I bought a while back on holiday abroad. It's a peach skin that has the most glorious drape. My husband actually chose this for me – though I was sceptical of the Pollock-like abstract print – it worked really well for me. The only downside is that with the print it hard to see the design lines clearly.
With my usual Burda size 38, this fit right off the pattern sheet. The only alterations I made were to omit the cute but labourious self-faced buttons and loops on the sleeves and the lower skirt.
Sewing with peach skin was not as challenging as I thought it would be, which is a relief as I have a few other lovely peachskins that have been sitting in my fabric collection.
Its a very pretty dress and something that makes me feel quite charming :-). By the way, the instructions on this pattern were actually quite good.
Simplicity S8045
For the night dress, I had in mind to make something for a date night we had planned to eat out at a Cuban Tapas restaurant. So when I saw the red viscose jersey with a lovely surface sheen my idea of a little red dress was cemented.
I have sewn with this Mimi G pattern before here and had plans to make it again because I wasn't happy with my fabric selection especially after a few washes. The sizing on this pattern was spot on and the drape of this viscose was better suited than the ponte I used previously. Its a sexy little number and I do feel like roaring when I am wearing it :-). The collar band that goes over the shoulders is quite snug and tends to roll up as seen in the pictures so its not as wide as shown on the pattern envelope. I think for the more endowed in the bust area that a toile is definitely recommended if you are thinking of making this pattern. Pictures-
Here is my video review of the two dresses:
The Burdastyle dress was my planned February make for #burdachallenge as well 🙂
Thanks so much for stopping by! Until next time – Happy Sewing!!!!
Peace and love,
Hila