Up next is a dress that has been "marinating" for a while. I traced this out when the magazine came out as soon as I saw it because I was smitten with the one shoulder style and the peekaboo circle at the shoulder.
On a tangent – my shoulders are my absolute favourite part of my body. Yes they have a forward roll and they are just a bit broader than what is considered normal for a feminine look but I love them. And so the point is that any pattern that shines a light on the shoulder is almost always something I'll love 🙂
Back to the pattern – the one shoulder dress is one of those rare instances where it was the styled model picture that caught my eye rather than the line drawing. In fact the line drawing is really rather unattractive :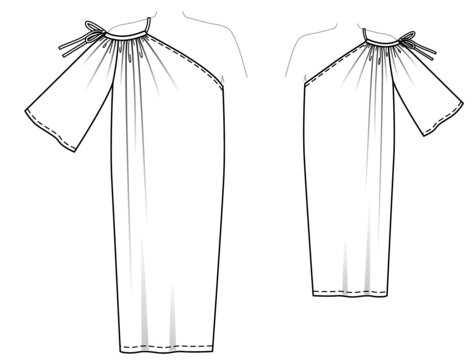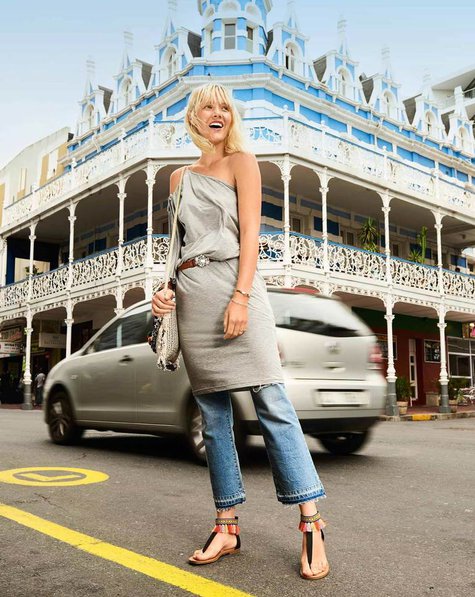 BurdaStyle 07/2017 #111
The front and back pattern pieces are more or less similar – given the size of the pieces and how much greaseproof paper they took up – I might have tried to use only one traced pattern piece of each. But its an experiance thing really. In future, if pattern pieces look similar to me I will check if they are the same and not bother with tracing another one. This has happened to me more times than I care to count.
Any how – this is a relatively simple pattern to sew up. The bit that goes across the chest is hemmed and the circular detail is finished with a casing. The sleeve seam is sewn right up to the point where it joins the casing before its artfully tucked into the casing. A tie band is then threaded through to make that oh so cut bow on the shoulder.
I was very happy with the ease of the instructions and I sewed it up in less than a couple of hours.
The fabric was bought from Fletchers Fabrics in Leeds Market last year. Its a John Kaldor jersey with vibrant red and blue flowers. I have washed it and its maintained its vibrancy.
The thing is I actually cut this out a few months ago before I did a major reorganisation of my sewing cave so I overenthusiastically got rid of a lot of scraps including the scraps of this John Kaldor. When I read the instructions on the sewing pattern pieces I missed the measured out bits that Burda sometimes has you mark straight onto to the fabric. The essence of the story is that though it may look like a design feature to have used some Art Gallery Fabric for the casing – it was actually because I had no access AT ALL to this exact John Kaldor fabric 🙂 . Still, I think it worked out well and looks good.
Wearing this dress is an interesting experience. It definitely exposes a lot of skin and perhaps it felt strange at first since I was just coming out of winter wherein covering up is de riguer. Apart from the novelty of feeling the breeze against my skin – I liked wearing this dress. The one flutter sleeve is very dramatic while the fact that it is made of jersey makes it very comfortable.
Foundation garment wise – I found that I couldn't carry it off without a bra (I'd need to make a smaller size for that – my bust measurement is based on wearing a t shirt bra, without it I am quite flat chested). I have a strapless bra which worked just fine. I also realised that this could work well as a beach coverup, it goes on and off very easily.
Here is how I wear it – with a belt just like in the magazine style picture-
There is a top version of the pattern which I will try next in a smaller size so I can go braless with it.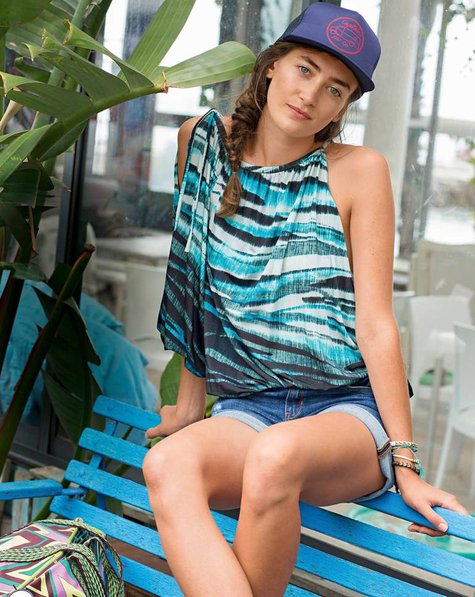 Thanks so much for stopping by! Until next time, Happy Sewing!
Peace and love,
Hila
This was an unplanned make for my  April #burdachallenge2018.