This was another unplanned make for my #burdachallenge2018. The idea for this developed after meeting the fabric. SO I will start with the fabric. This is a beautiful shiny viscose jersey with the most beautiful drape – it is like a liquid gemstone. I picked it up from Fletchers Fabrics in Leeds while shopping with my friend Eleanor. I bought 1.5m without any idea of what to make with it. It was only when I was shooting my Youtube fabric haul video that I realised what this fabric could become.
The pattern is from the Jan 2017 issue of BurdaStyle. Here is the line drawing: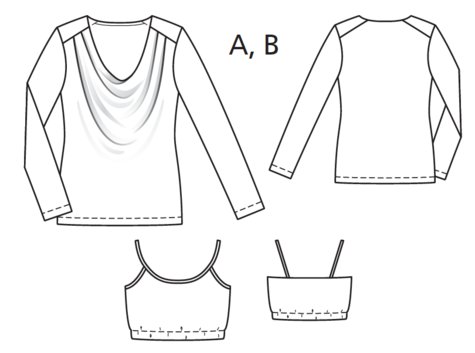 And here is the style picture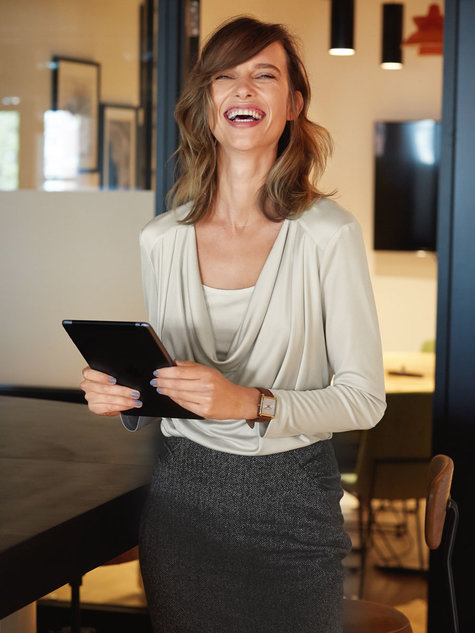 The recommended fabric is silk jersey in order to achieve the exaggerated cowl neck. The instructions were easy to follow. The neck is finished in an ingenious way IMO. I handstitched the shoulder yoke facing as I didn't want to topstitch. The sleeves are set in which is a little tedious to do on jersey fabrics but worth it in the end.
It came together quickly. The little bralet is a gem of a pattern as well. I used rainbow foldover elastic because I like it. The pattern calls for cutting out strips of fashion fabric otherwise. Technically this is the first bra I have sewn :-). I am looking forward to whipping up more of the bralets using scrap fabrics.
I cut my usual Burda 38 but I felt like I could have gone down a size on this which is unusual.
Verdict – a great stylish pattern with the deep cowl. I think I could have done a better job with styling it though. I feel this was designed to be tucked in but in my pictures, I didn't do that. It does make a difference to how the top looks. Its a lovely top though I doubt I shall be making another one any time soon – I might try it again in size 36.
Thanks for stopping by!
Thanks for stopping by and until next time
Happy Sewing!
Hila
XoX