There's something about bright highly contrasting colours that I find attractive. During the last SEWDOWNDEWSBURY I bought 1 meter of such psychedelic swirling colours at Fabworks. Its not the best quality jersey – the pattern is printed – but it is not the worst either. It washed well and kept its brightness well for the quality of jersey it is. That is to say, it lost about 20% of the colour.
The pattern was one of my #burdachallenge2018 planned makes for April 2018. Its style number 128, here is the line drawing: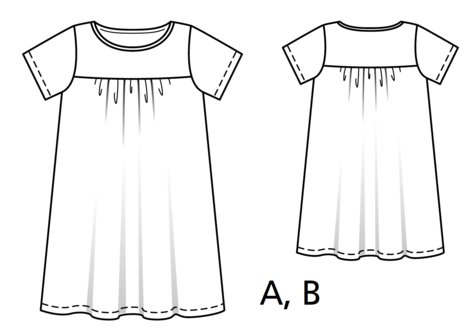 I think this particular issue of Burda has a lot of great kids patterns and I will be making more from it.
I traced the 110cm. They are 104cm currently, so they can grow into these. The pattern is a super fast sew. For the neckline, I just turned under and sewed with zigzag stitches. The contrast yoke is a scrap fabric that I picked up at a swap.
The fit is just as I have come to expect from Burda – spot on for them. Up next I'd like to make these in a better quality jersey like maybe AGF.
They love the dresses and they have been worn  A LOT since I sewed them up:-).
Thanks for stopping by! And until next time, Happy Sewing!
Peace and love,
Hila
#burdachallenge2018