As it happens, the twins were going to a wedding in June with their dad in the USA. Since it was term time and we didn't want the school going kids to miss school, we sent a delegation to represent us at the wedding so to speak. And so began the wedding guest dresses project.
It all started with the seersucker fabric that I picked up when I was at Fletchers Fabrics in Leeds Market with my friend Eleanor. There was something about the crisp delicate lightness of the pastel colours that caught my eye. Eleanor has had experience with seersucker and she advised me to not press it – its supposed to have the raised texture. Wikipedia explains it "……..giving the fabric a wrinkled appearance in places. This feature causes the fabric to be mostly held away from the skin when worn, facilitating heat dissipation and air circulation. It also means that pressing is not necessary."
There is a joy to working with a woven fabric that does not need pressing! It made me realise just how much time is taken up with pressing when sewing up a garment. There were times when I forgot though and found myself pressing a seam out of a deeply ingrained habit.
Girl's Dress 11/2017
 #130A
As for the pattern, I went with a cute but simple dress from BurdaStyle 11/2017. Here is the line drawing:
And here is the style picture –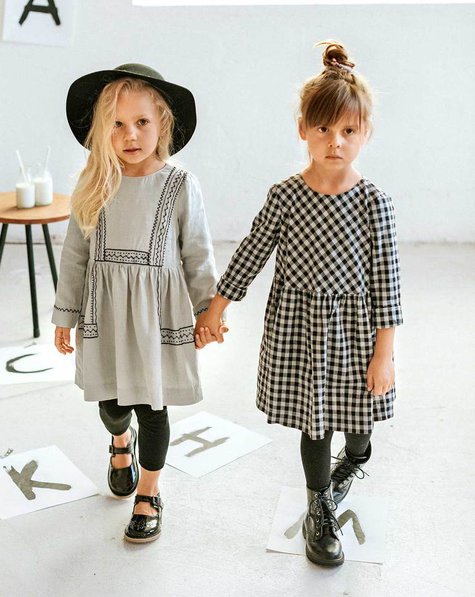 Its a relatively simple dress to sew up especially since the skirt is a rectangle gathered to fit the bodice. I traced out the size 110cm though they are about 100cm tall – and the fit is just right for something I want them to wear for at least another year. They are at the stage where they are growing rather fast so I am finding that I have to size up so I don't blink and they can't fit into it. It's not so much of an issue with knit fabrics.
Unfortunately, I didn't have enough fabric to cut both front and back bodice pieces on the bias so only the front had to do. The neckline is finished with a facing. I added patch pockets to the skirt fronts. Still, they love their dresses and the seersucker was perfect for a hot and humid Saturday in Annapolis. Pictures..
Thanks for stopping by! And until next time, Happy Sewing!
If you'd like to see the fabric texture and drape you can check out this quick video where I talk about my plan for it.
Peace and love,
Hila
#burdachallenge2018