BurdaStyle 07/2015 
#114B
Here is a pattern that I like so much I made several of them in succession! I like the simple look and feel of the pattern. It is something that I have had traced for almost 2 years but never got round to making it. It seems I have made up for that.
Sleeveless Peplum Blouse 07/2015 
#114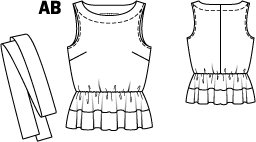 I have the tops in this Youtube video here
So I made it in the John Kaldor Lizzano sateen fabric first. The John Kaldor was something I fell for when my friend Ali (akathimberlina) showed hers on IG and I quickly bought from an online shop. Unfortunately, I can't remember the name of the shop. Its beautiful vibrant fabric that I used to make a shirtdress the M6696 shirtdress and used leftovers to make some this top.
I managed to sew this out of just under a meter of fabric. The rest was used to make a sash.
The instructions tell you to insert an elastic on the waist but opted not to do that as I found (much to my surprise) that I like the free boxy look.
Instead of sewing the armhole bias binding in the round, here is what I did:
After finishing the neckline I sewed up the shoulder seams. Then sewed the armhole binding in the flat. Next, I sewed the side seams. I fell like this was far easier and neater than sewing in the round.
So when it came time to think about my #makenine2018 I knew that the barkcloth would look amazing in this pattern and I did not hesitate to cut into it. I love it!
I also had some linen left over from the Hollyburn skirt I made a couple of years ago and it was just enough to make this top too. Unfortunately, I forgot to take pictures but you can see it on my Youtube channel at the link above.
And then I tried the longer non-peplum version of the top but with a few twists, i.e. adding a knit cuff neckline on a woven like I learnt when I made the Merchant and Mills Tee for my husband. It did quite work out though because I forgot to not stretch out the knit cuffing. I am so used to stretching it slightly when sewing but I needn't have done it with this one so. It does do a bit of a puddle but never mind. The John Kaldor fabric is so comfy against the skin. I barely had 3/4m left from when I made the Sheath Dress.
Alterations
The line drawing shows that the back has a CB seam which means cutting 2 back pieces. I only did that with the first one. Subsequent ones were cut on the fold. It makes no difference at all because the CB is straight.
Size traced: 38.
Verdict – Definitely, a great top that I have no doubt I will come back to again and again. I had a think about which one is my favourite and………..its…………
Thanks for stopping by and until next time
Happy Sewing!
Hila
XoX