Twisted Bustier Dress 03/2018
 #113 
In March I decided to sew up this interesting shirt dress pattern from the March Issue of BurdaStyle Magazine. The March issue itself was not that awe inspiring to me and I struggled to select styles to sew. I ended up with 2 things this dress and the panel skirt here.
The shirtdress has a twisted bustier which piqued my interest – if only to see how it sews up. The skirt is wide with some sections of gathering and the bodice is accented with the casual twisted bustier that has the look of a bikini top. This style gives the traditional shirtdress a playful makeover. Here is the line drawing: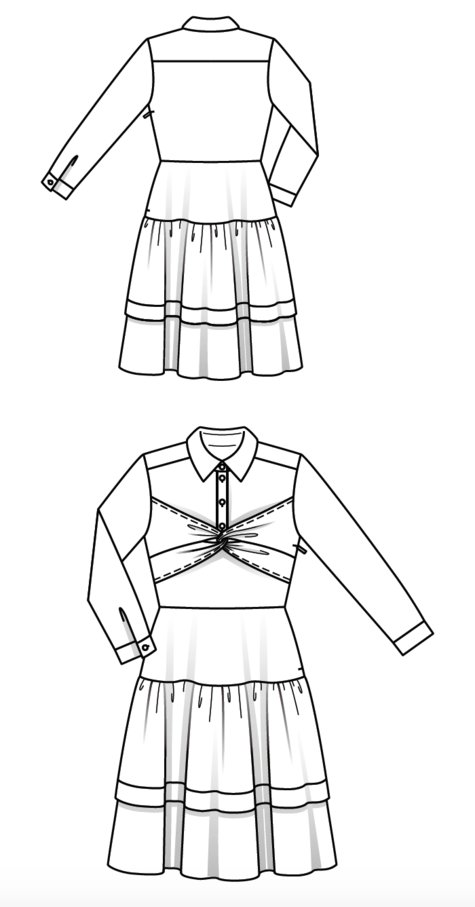 The fabric recommendations were lightweight cotton dress fabrics, with stretch blend. I used a shirting cotton that I bought from SewDown Dewsbury here. It has a twill weave which makes it reversible – its raspberry pink on one side and pale pink on the other side.
I thought the fabric could work even though it doesn't necessarily have any stretch in it being a woven cotton. It is crisp and I felt that might look good with the full skirt.
The process of sewing it was quite easy. It is the featured sewing course in the issue which means it comes with full instructions supported by illustrations. The magazine instructions say the pattern pieces to be traced are shaded in but there is a printing error. It is actually the green lines of sheet A.
The only change I made was to remove the long sleeves and keep it sleeveless. In my head I was imagining this as a summer wear, especially with the pink fabric so I just couldn't fit the long sleeve with the my vision. All I did was to not sew in the sleeve and used a satin bias binding instead to finish the armhole. It has side zip and it fit like a dream when I made it. I sewed size 38.
I love the dress – I positively feel like gliding and bouncing everywhere when I am wearing it! Here is my YouTube video review of the dress so you can see it in motion.
It so funny how the March issue was one that really struggled with and yet it has produced two really outstanding garments for me! Goes to show that sometimes you don't have to be madly in love to try something.
Thanks so much for stopping by! Until next time, Happy Sewing!
Peace and love,
Hila
This was a planned make for my  March #burdachallenge2018.